A Book Review by Zinta Aistars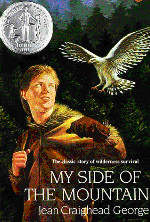 # Hardcover: 176 pages
# Publisher: Penguin USA (Paper); Revised edition (1988)
# ISBN: 0525463461
# $15.99
Dare I admit how many years ago I was but a girl, nose buried in this book? Decades, oh, decades ago. Yet even now it stands out as one of the beacon lights of my childhood, leading me to an adulthood that focuses around a love of wilderness.
When young Sam ran away from home (and this is something I routinely did as a girl, tying red bandana to a stick containing crackers, kitchen knife, and toothbrush, and rather long to do again, now as I spend too many of my days in an office) and headed into the Catskill Mountains, my heart went with him. No dream house could match the home he created inside the hollow of a big tree. No gourmet dinner could match the wilderness fare Sam put together, smacking his lips. No pet could match that fine falcon.
Jean Craighead George was then, and is now, at the top of the list of my favorite authors in children's and young adult literature. My own children are grown now, but as they grew, I read George's books to them, giving them not only a taste of fine writing, but also an education in science and wilderness survival, along with a healthy respect for environmental issues. George may write fiction, but her stories are all based on sound scientific data. How Sam survived on the mountain is based on good science. That he uses determination, intelligence, and discipline in living this way is good character. And that's something our kids don't see or read about nearly often enough today.
Highly recommended.